And they're back. Our insights articles are rolling out again (better late than never). Kicking it off…InsurTech. If you missed our 2022 edition, feel free to check it out here. This article will focus on how InsurTech Europe performed in 2022 and how 2023 is shaping up for the space so far.
InsurTech Europe Funding
What better way to kick off an insights article than to look at some graphs. On that note, shoutout to sifted! First and foremost, let's take a look at the amount of money that has been pumped into InsurTech Europe over the last couple of years. No doubt, 2021 was a record-setting year for the space, with European InsurTechs securing a total of $3.2 billion in funding. It's evident that 2022 didn't quite match those levels but when considering everything that happened throughout the last year, $2.2 billion is still an impressive figure. Over a five-year period, $2.2 billion still takes the silver medal in yearly funding amount.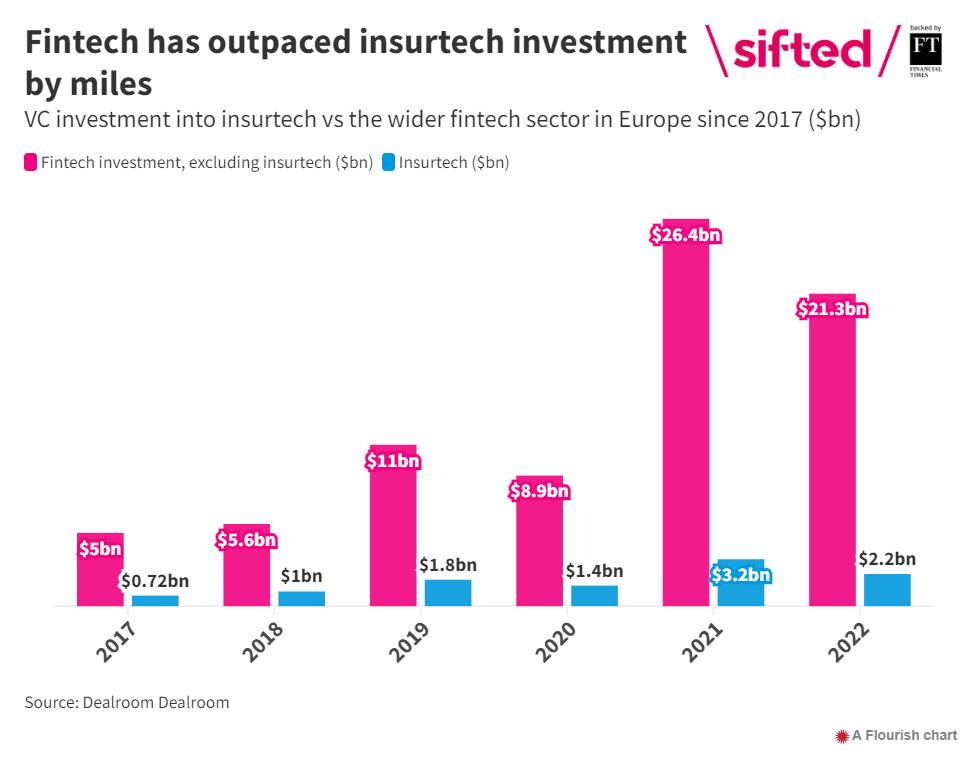 InsurTech Funding by Country
So we've looked at how much European InsurTechs bagged in funding in 2022. Let's take it one step further and look at which countries led the charge for InsurTech Europe from 2017 to 2022. The UK takes the top spot for InsurTech funding in Europe, with France and Germany hot on its heels…well kind of. The UK has stormed (no pun intended) ahead with $3.6 billion. France leads mainland Europe with $2.5 billion in funding and Germany settles for bronze with a total of $1.9 billion in funding. The gap between third and fourth is significantly larger though. Sweden comes in fourth, having raised $464 million in funding from 2017 to 2022.
In short, the UK and France are key markets for InsurTech Europe.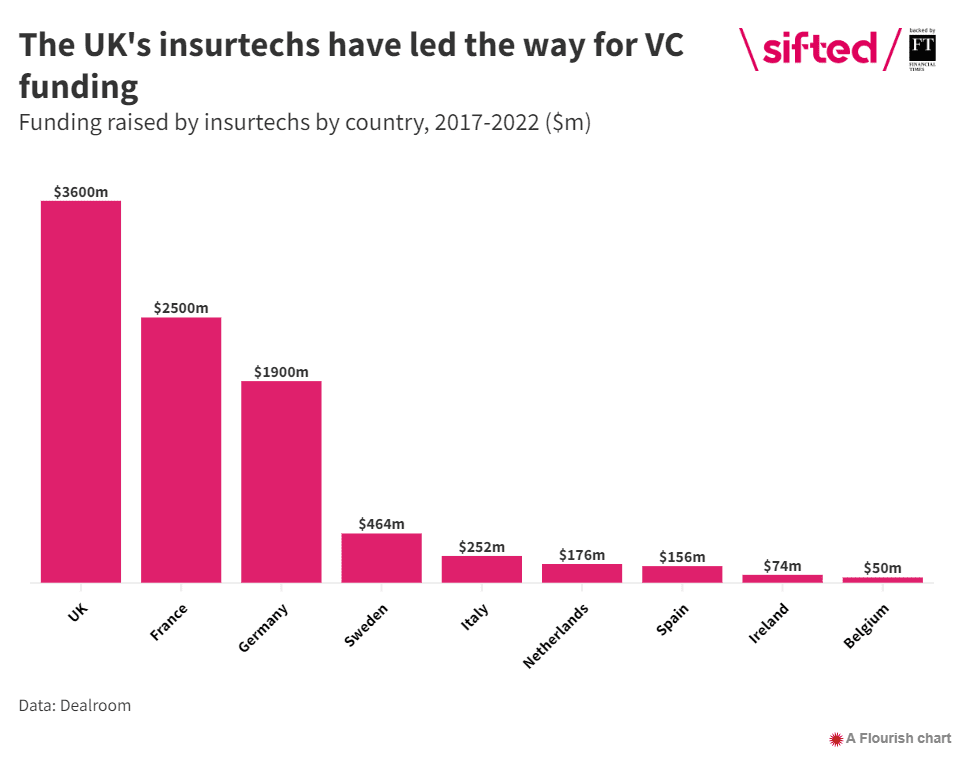 Europe's Crème de la Crème
Despite the UK and France being the hotspots for European InsurTechs, German InsurTech Wefox is Europe's biggest player with a valuation of $4.5 billion.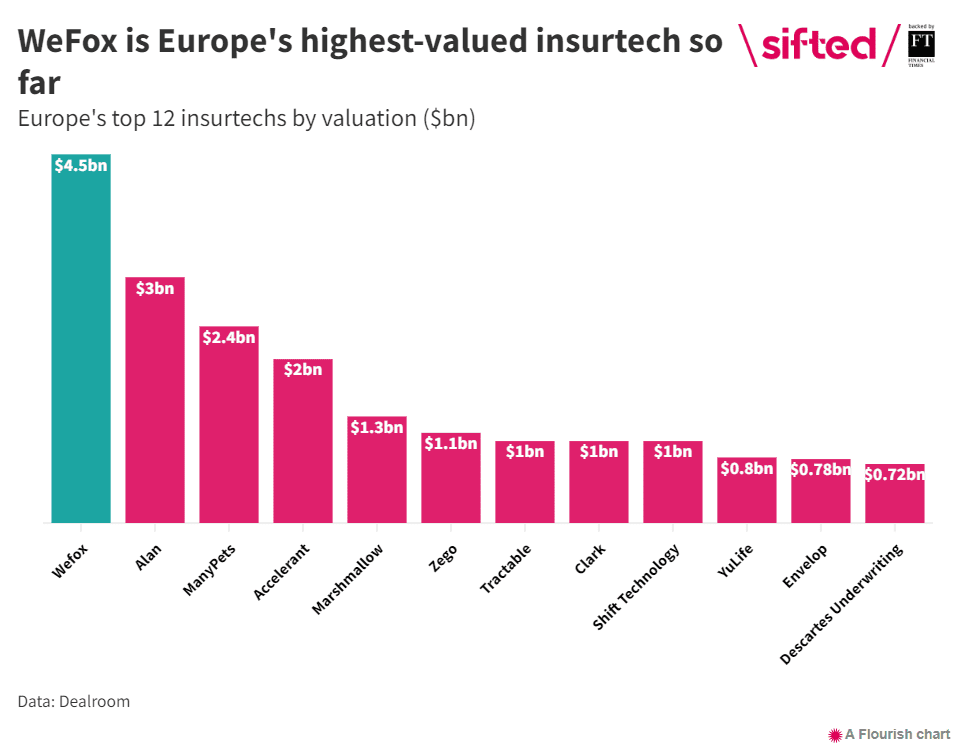 Let's take a closer look at Europe's top three InsurTechs (so far).

The Berlin-based InsurTech was founded in 2015 by Julian Teicke, Fabian Wesemann, and Dario Fazlic. Wefox is a category-defining InsurTech platform that connects insurance companies, distributors, and customers, to give the world simple access to digital insurance solutions.

Paris-based Alan was founded in 2016 with a mission to become your one-stop health partner. Alan's services include the most intuitive health insurance offering, Alan Clinic to navigate the healthcare system and Alan Mind, their mental well-being offer among other things.

ManyPets is on a mission to make the world a better place for pets and their parents. Founded in 2017, the London-based InsurTech offers pet insurance policies with generous pet health benefits that are designed with their needs in mind.
InsurTech Europe 2023
Having looked at all the exciting numbers that European InsurTechs produced in 2022, it's time to take a glance at 2023. In a tech.eu article, Julio Pernía Aznar, Co-Founder & CEO of Bdeo, identified four trends that will thrive in 2023:
Reimagining Internal Processes: Harnessing the Power of Artificial Intelligence for Automation
Enhancing the Customer Journey: Innovative Solutions for an Elevated Experience
Safeguarding Our Planet: Elevated Focus on Climate Change Solutions
Revolutionizing Claims Processing: Precision-driven Insurance through Telematics
While we're already a quarter into 2023, it's safe to say that we still have a lot to look forward to in the European InsurTech space.
Your Partner in Growth
As the InsurTech industry continues to grow, so does the need for talent to facilitate this. At Storm2 we have not only specialized in FinTech headhunting but also in InsurTech recruitment. We strive to connect senior talent with disruptive players such as yourself. We can assist in any stage of your growth by connecting you with the right people. Please don't hesitate to get in touch and we would be more than happy to see how we can help and support you in your journey.