Even though digital payment technology has been available for many years, it's uptake was slow to start with. The pandemic caused a rapid increase in PayTech usage. Since the outbreak of the pandemic, digital payments have reached an all-time high.
Digital banking and FinTech innovation have not only modernised banking and financial institutions but have also transformed them. It's disrupted every industry that deals with payment technology, including e-commerce, retailers, educational institutions, healthcare providers, and many more. To improve the user experience, they have all begun to include financial technology into their PayTech offerings. It also contributes to safer, more secure, and quicker transactions.
Change is filtering down into larger businesses that have long been controlled by cash and cheque. As a result, suppliers are vying for market share. Consolidation that has resulted in mega-giants are driving providers to diversify in pursuit of fresh traffic.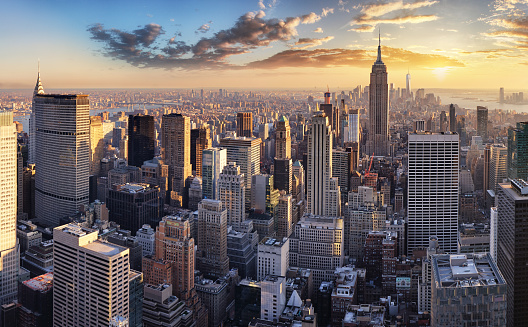 The bright environment of San Francisco is likely the most typically envisioned picture when discussing the US technology industry. However, there are plenty of FinTech firms growing on the East Coast, especially in New York. The city is often regarded as one of the world's top financial capitals, with its busy finance district centred on Wall Street housing some of the world's major institutions, including JP Morgan Chase, Goldman Sachs, and Citigroup.
Top FinTech Payments Start-Ups In New York 2022:

2017 | Series A | 11-50
Roll is a blockchain infrastructure for social money on Ethereum. The Roll network mints branded digital tokens unique to online presence, allowing them to own, control, and coordinate the value created across platforms.
"Roll is unique as it is a Blockchain infrastructure for creators. It gives individuals the ability to personally build and spread awareness of their brand in the relevant communities through the creation of social money! This is a powerful tool as it allows creators to enable the experiences and rewards they offer!" – Paolo Crowe, Storm2 Risk & Compliance Senior Associate.

"Roll is revolutionising the community of online interactions between creators, streamers, influencers, artists and their fans. Their Ethereum based digital tokens have thrown them and their users into the increasingly growing world of social currency"- Louis Grantham, Storm2 Engineering Associate.

2015 | Series D | 51-100
Current offers mobile payments, online banking, and financial services. The company's mission is to enable members to change their lives by creating better financial outcomes. The company's success is demonstrated by their tripling of valuation to $2.2B in just 5 months after its previous funding round.
Current emphasis that they are not a bank and "Never have been, nor do we have any plans to become a bank."
The FinTech challenger adds that they are quite focused on "Building the best, most innovative technology that can solve real problems for our members and enable them to change their lives through working with our partner banks to provide banking services."

2020 | Series A |11-50
SelfBook offers an easy and secure way to pay for a hotel stay. SelfBook develops a technology-first payment platform designed to help users pay for their hotel reservations seamlessly and securely. The platform enables hotels to accept one-tap payments, supporting all global credit and debit card brands. The firm also supports digital wallets and alternative payment methods.

2020 | Series A | 11-50
Capchase is a FinTech that helps SaaS companies finance the growth of their operations with cash tied up in future monthly payments. Capchase Earn is designed to help start-ups fuel their growth and stay in control, by enabling otherwise idle cash, such as venture capital funding. This helps growth at an extremely competitive return of 3%. For US-based customers, every dollar is protected with FDIC and DIF insurance, even above the standard $250K amount covered by FDIC.
When funds are combined with other Capchase financing products, companies can significantly reduce their total cost of capital. Capchase Grow brings a company's revenue forward to today, while Capchase Extend spreads out the repayment of large expenses. For example, depositing $3M in Capchase Earn would unlock $2M of Capchase Financing at a 1.50% discount rate.

2017 | Series B | 101-150
OpenSea is a peer-to-peer marketplace for crypto collectibles and non-fungible tokens. It includes collectibles, gaming items, and other virtual goods backed by a blockchain. On OpenSea, anyone can buy or sell these items through a smart contract.
OpenSea's transaction volume recently surpassed $10 billion, making it the clear leader in the NFT boom of 2021. OpenSea has integrated with layer-two Ethereum side chain Polygon and has provided cheaper and faster transactions ever since. While most of the transactions still take place on the Ethereum blockchain, Polygon-based volumes on OpenSea exhibit decent numbers.
If you've been following cryptocurrency trends, you may have heard of the OpenSea NFT marketplace. You would have eventually come across non-fungible tokens, digital media that people rave about nowadays. Most people see them as promising investments, while artists see them as easier to earn money from their craft.
OpenSea hosts millions of non-fungible tokens from various artists and creators.
It's not just art, so here are the other forms of OpenSea NFTs:
Music – These include songs, sound effects, and other forms of audio.
Websites
Trading cards – Pokemon cards have been trading lately, so now we have NFT trading cards.
Collectibles – The first popular crypto collectible was CryptoKitties, but we now have others like Bored Ape NFTs.
Sports – Even sports brands are getting in on the NFT action. Nowadays, you can buy digital goodies from the NBA and Formula 1.

2017 | Series B | 51-100
Extend provides digital payment infrastructure for trusted financial institutions to enable modern card experiences. Leading banks, businesses, and other innovators can now access the full power of virtual cards for their business, products, and clients. Extend offers several products, including a suite of aggregated virtual card APIs, a digital corporate card app, and an industry-first card tokenization service.
"By streamlining access to key components of the payment stack, we've been able to deliver solutions that are universally accessible. But what excites me most, is the creativity that such accessibility breeds—not only are we helping banks reach the new status quo, we are seeing innovators develop their own solutions with the flexibility of our platform" – Andrew Jamison, CEO & Co-founder of Extend.
2018 | Venture | 11-50
When it comes to corporate spending, processes are driven by corporate cards and outdated reimbursement policies. This has led to bottlenecks and a lack of visibility and oversight. Its answer is to embed a cardless payments offering into the day-to-day organizational flow of a company, enabling full control and real-time visibility for corporate finance teams and streamlining payment activities across multiple department processes.
Firms can set policies, limits, automatically manage their receipts and receive real-time reports. Mesh issues highly controlled virtual cards with configuration for both online and offline payments, tapping the growing adoption of mobile wallets.
Oded Zehavi, CEO, Mesh Payments, says:
"Since the onset of Covid-19 and the overnight explosion in remote work, there has been exponential growth of financial executives searching for a more effective way to orchestrate their corporate spending."

2018 | Series A | 1-10
Messari's mission is to promote transparency and smarter decision-making in the crypto asset community. Their open-source data library helps researchers, investors, and regulators make sense of the industry.
"Messari are considered by many as the 'Bloomberg or Thomson Reuters' of the Crypto Space. Their mission is to help their customers with exchanges, hedging funds, and retail users to make the best informed decisions when investing in crypto products. They have a 50/50 split of tech employees to analysts/researchers who create a brilliant platform to not only track their favourite projects but also stay up to date (and make sense of) the hottest stories!" – Marvin Dhanoa, Storm2 Product Associate.
They also have a Community-driven marketplace for crypto research. Messari Hub which enables Funds, DAOs, and firms to contribute cryptocurrency for Messari team of highly trained analysts to product independent analysis on different projects.
Storm2's New York office is set to open in April 2022 to further connect with our current network on the East Coast of the US. Keep an eye out on our LinkedIn for updates and the progress of the establishment of this office. If you are a New York fintech looking to scale, speak to one of our expert consultants today.