What Is Series B Funding?
A Series B funding round is all about moving the firm to the next level, past the development stage, while a Series A funding round is all about getting the team and product developed. According to Tomasz Tunguz, a well-known Redpoint Venture Capitalist, Series B investment is the most demanding round for a start-up company.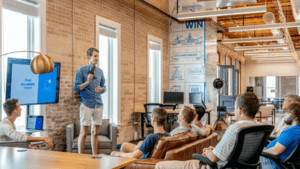 Typically, before a Series B fundraising round, the company must have demonstrated significant progress following its Series A round. With a larger funding round in Series B, the company will be able to accelerate its growth. Quality talent acquisition is necessary for developing a winning product and building a team. Incorporating business development, sales, advertising, technology, support, and staff to a company's budget requires substantial capital.  
Characteristics of Series B funding for FinTech
In a Series B round, the average expected capital raised is $33 million. Series B companies are well-established, and their valuations reflect this; most Series B companies are valued between $30 million and $60 million, with an average of $58 million. 
In terms of the process and important participants, Series B appears to be comparable to Series A. Many of the same players from the previous round generally lead Series B, including a major core investor who helps to attract other investors. The distinction between Series A and Series B is the addition of a new surge of later-stage venture capital firms. 
Amount of Series B funding on average: According to an examination of 38 Series B deals completed in June 2020, the average Series B in the United States was $33 million, with a median of $26 million. 
Examples Of FinTech Series B Funding
British payments start-up Checkout.com tripled its valuation to $5.5bn after closing its Series B funding round at $150m in June. The company benefited from a surge in demand caused by coronavirus lockdowns, with transaction volumes increasing by 250 percent year over year in May. 
Thousands of retailers, including Deliveroo, utilise the service to handle online payments, connecting them with card providers such as Visa and Mastercard. It claims to be the fastest provider of more than 150 different currencies. 
Team Sizes At Series B Funding Stage By Subsector
As experts in FinTech recruitment, we help scale FinTechs with their team growth plans. When speaking with early-stage start-up founders, we're often asked for advice around what specific teams should look like to have a successful next funding round.  
This whitepaper showcases average team sizes for payments companies as they go through different funding rounds.  
Each funding stage brings about it's own challenges and opportunities and the founders we speak to often only think about team structures once the funding round is complete. We hope that by presenting this data, we can help you think ahead and understand what hiring you might need to focus on to progress through to your next round. 
Payments
Team Sizes During Series B Funding
The data gathered in the following slides are from 70 companies within the payments sector of FinTech.  
CrunchBase and LinkedIn were primarily used to gather data about companies and is correct as of October 2021.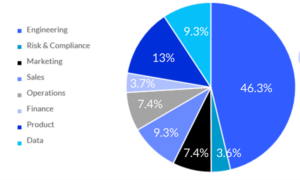 The average headcount of a Payments company at Series A is 243 employees. 
There is an exponential increase in the engineering team at this stage. Engineers make up almost 50% of the workforce. Despite the % of other teams seemingly going down, headcounts for each team will have grown on average by 21 people.  
Aside from the Engineering team, the Product team will have scaled significantly as new products are launched in new markets. 
By Series B funding, most of the C-Suite positions have been filled but it is unlikely that they would have a Chief Data Officer unless the company is data driven.  
An example of a company without a CDO is Flutterwave, who do not have a CDO but have many junior data positions in the company. A CMO and CRO (Risk) are also often brought on at this point to grow these teams and drive strategic vision. 
As you have now gone from being a potential acquisition target to a potential acquirer yourself, you might also consider strategic buyouts or several talent acquisitions. This is also an incredibly demanding funding stage. As rounds go from $50m to way beyond, you should expect gruelling and long due diligence processes with a lot of parties involved. 
Click here to download the full report.  
Storm2 can help FinTechs at the Seed funding stage with their growth plans. Get in touch for a confidential discussion on how we have helped businesses like yours. At Storm2, we understand how important it is to make the right hire. A specialized recruitment agency helps to stay on a lookout for seasoned candidates that have a strong potential to lead your company to success.