The role of a compliance director is key for any business that operates in regulated areas. The main responsibilities include ensuring that all areas of the business follow financial policy, reporting regulations, and the law while implementing any changes accordingly.
This role is important within the FinTech industry as the regulations are ever-changing. Having a Compliance Director in place builds a solid foundation for a business's growth while also creating peace of mind for investors. In addition, it certifies that the infrastructure of their potential investment adheres to regulations.
So, what skills should you look out for when hiring a Compliance Director?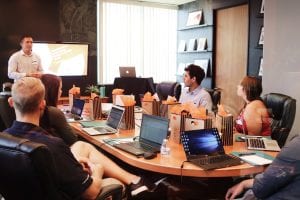 1. Risk Management & Assessment
There are key steps a Compliance Director must take when managing risk, which involve identifying, analyzing, planning, monitoring, reporting, and controlling. They must be familiar with these steps and use them as a guide to tackle any potential risks.
A Compliance Director must have a base knowledge of regulation concepts and identify how it affects the business to assess compliance risks and interpret them, which will enable them to flag any legal, financial, business, or reputational issues that may occur.
2. Integrity & Honesty
Integrity and honesty are a must for any profession, and a Compliance Director is no exception. They must remain undivided and unbiased while executing their tasks and be trusted to highlight and solve problems in the organization's best interest.
3. Communication Skills
Written and verbal communication skills are essential to this role. Compliance Directors must be able to effectively communicate with colleagues at all levels to advise or update on their findings, clarify regulation topics, and make sure all sectors and resources are in line with the compliance process.
4. Critical Thinking
Critical thinking is a desirable skill for a Compliance Director. It provides them with the ability to analyze data and strategically approach a problem. In addition, the role requires an independent thinker who understands the logical connection between business policies and compliance regulations.
5. Diplomacy and Negotiation skills
Making tough decisions is expected in a Compliance Director's role as they need to decide what disciplinary action the organization needs to take following a compliance incident. Therefore, they need a person who can resolve these conversations and make them fair for all parties.
A Compliance Director is a trusted partner that enables the business while also protecting it from financial or reputational damage. Maintaining that balance can be difficult, but it is up to the Compliance Director to keep a level head.
The future of this role will and already is beginning to see a shift towards ethics and data analytics. There will be more emphasis on behaviour models, values, and ethical leadership mixed with data analysis to detect and prevent compliance risks.
Your Partner In Growth
Are you on the hunt for a Compliance Director? Or looking for your next role as one? Get in touch. Our specialist Consultants can advise you on the process and connect you with their network of highly skilled FinTech talent.