The intricacy of today's business environment and the emergence of a greater volume and type of risk requires a strong risk management function. As such, more organizations are hiring Chief Risk Officers (CRO) to safeguard immediate daily operations and future endeavours.
Once a role that was low-profile, existing only to mitigate traditional risks to businesses, the CRO has evolved as the nature of risk has progressed. Because of this, the responsibilities of a CRO, and the necessity to find the right CRO for your business has never been more important.
What is a CRO and how can they benefit your FinTech? Our Risk and Compliance team have put together a brief guide on why you're missing out on an integral part of your business structure.
What is a Chief Risk Officer?
The Chief Risk Officer is a C-suite executive who is tasked with the identification, analysis and mitigation of internal and external risks. They work to ensure the company complies with government regulations and review factors that could potentially damage investments, assets and performance.
With a background in economics, accountancy, law or actual science, the role of the CRO differs for every organization. Particularly for finance-based companies, the role is stipulated by regulation.
The Role and Responsibilities of a FinTech Chief Risk Officer
With financial, political, regulatory, governance and technological changes disrupting the business landscape as we know it, risk management has become a complex process. Dating back to 1993 when the first CRO was appointed by GE Capital, CROs were initially predominant within the banking and insurance industries. Now they can be found in many others industries, such as energy, oil and gas and government organizations.
In addition to the greater presence of a CRO, the scope of the role has increased. Evolving from just being solely responsible for financial risks, data protection, risk assurance and system vulnerabilities play just as an important role in today's FinTech landscape. The CRO is engaged in the most difficult decisions, providing top management with perspectives and guidance on strategic business risks.
Chief Risk Officers are strategists, wearing multiple risk management hats to embed a risk management programme that covers the broad umbrella of risk. At times, planning involves modifying business policies and procedures to address vulnerabilities. You should expect them to become a key figure in your leadership team to build a healthy risk culture, balancing the right mix of technical risk and behavioural competencies, such as being commercially focused, excellent communicators and confident with change management.

Why You Need a Chief Risk Officer Early On
A CRO is fast becoming one of the most important people in a FinTech. Despite the relatively new position, they carry a vast array of responsibilities and serve as a critical component that counters inevitable threats, and contributes to higher profits. According to Deloitte's 2019 survey of risk management, companies that view risk management among the most important factors for achieving strategic goals tend to achieve higher growth.
The gravity of this role has been brought to light by Covid-19 and highlights the growing complexity of risk. An effort to invest in risk-function capabilities will become a priority in the upcoming months to mitigate any future economic threats and re-establish a more efficient and agile risk management framework.
The right support will enable the risk function to become one of your greatest assets. The CRO being equipped with the best tools and software will adopt a strategic role in the business, steering and shaping future direction. It is important to recognize your CRO as a business partner, setting parameters not to get in the way of growth, but to ensure business decisions are consistently considering risk margins. Ultimately, exposing yourself to risk could reduce profits or cause your FinTech to fail in some way.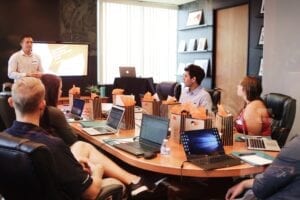 When To Hire A Chief Risk Officer
Ideally, those at a Series A or above funding phase of growth should start to think about adopting a permanent risk function in the form of a senior risk professional. The earlier this is established, the fewer barriers your company will need to address. As you start to scale, inevitably you open your business to more risks, therefore it is as prevalent as ever to ensure you have a rigid and agile risk framework in motion.
With businesses feeling the effects of the global pandemic, you won't be alone in considering hiring a CRO. The growing demand means the competition will be fierce and finding an individual who can seamlessly manage this mix of responsibilities may appear to be a challenging task. Our Risk and Compliance team are specialists who understand the complexity of the role and how it can benefit your FinTech business. If you are looking to take the first steps in building out your risk function, get in touch with our consultants who will assist and advise the best way to do so.