FinTech Visa Sponsorships
The United States FinTech sector is a hotbed for innovation. Thus, here is a lot of talent looking to enter the American market and be a part of this revolution. The USA is also known for its complicated citizenship and visa sponsorship procedures. Finding FinTech professionals with specific skillsets can be challenging, therefore a search for people from outside the country enables businesses to expand their reach and talent pool. There is a desire for international talent but obtaining the proper degree of highly qualified personnel to accomplish this growth remains one of the most difficult problems.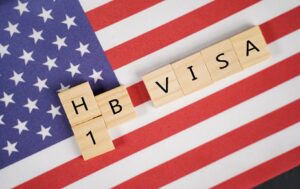 81% of FinTech companies have less than 50 people. So many of these firms find it difficult to invest in sponsorship owing to limited personnel and budgets. Many businesses believe the visa sponsorship procedure is arduous and avoid it because of their assumptions. The procedure, however, isn't as complex as it appears. The FinTech sector has made a name for itself by defying convention and embracing innovation. Now more than ever, companies must apply this principle in their recruitment processes. Those that continue to poach from competitors or lean on less agile hiring firms will quickly begin to miss out on the top talent in their sectors.
This article covers the benefits of sponsorship as well acting as a simple guide to how companies can approach the process.
About The Visa
The H-1B visa is the most frequent visa used by companies to sponsor candidates in the United States. This is a non-immigrant visa that permits US firms to hire individuals in speciality jobs that demand theoretical or technical knowledge in specific subjects. Demonstrating degree equivalent through work experience and/or other credentials is needed if you do not have a bachelor's degree or higher. Because applying for a non-immigrant visa takes less time than applying for a US Green Card, the H-1B visa is popular among firms looking to hire employees for long-term assignments in the United States. This new visa was created to encourage Fintech professionals.
Why FinTech Firms Should Consider Sponsoring Talent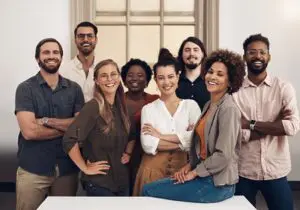 1) Acquiring FinTech Talent Who Are Not Available Locally
Many in-demand skills are hard to find in the FinTech industry. But, there may be a pool of candidates elsewhere in other areas of the world. As a result, businesses seeking international talent can address talent shortages. It is no longer sufficient to exclusively employ from within the financial services industry. Companies must now cast a wider net, recruiting from other sectors.
2) Greater Employee Diversity Often Means Greater Innovation
Although the gender gap in FinTech is not new, the industry's lack of development is startling. According to the 2019 FinTech Census, women make up just 29.5 percent of the workforce, up 0.5 percent from the previous year's estimate. The situation is much worse among founders and executives. Only 25% of firms have a female founder, while men hold 83 percent of C-suite roles in the sector.
Experts in business and organizational development have repeatedly proven that a more diverse workforce leads to greater problem-solving. Employers may diversify the perspectives of their work teams by bringing in new talent from other parts of the world.  Many modern business cultures are able to embrace diversity and create a more powerful, innovative workplaces as a result. Using the H-1B visa procedure to hire highly skilled foreign workers is an excellent method to diversify your staff while also increasing long term profitability.
3) Hiring Immigrants Can Preclude Global Expansion
If your firm wants to expand into other regions around the world, you must start recruiting people from those countries. Many businesses sponsor these personnel with the hopes of establishing new headquarters or branches in their home countries in the future. Not only will that person be able to work in the United States on a temporary visa, but they may also become a key contact with the new foreign branch's leaders. Rather than working remotely, they may better grasp the business culture by being physically present and interacting with other employees.
We asked one of our Managing Consultants, Lauren Ellis, what they thought about the benefits of a company sponsoring a visa. She says:
"I know that companies often hesitate to go through the sponsorship process. Reasons range from the timeliness of the visa transferal to the process application. Many companies will offer to pay for the transferal and then have the candidate pay it back in their first 12 months working at the company. I think is a great process as it gives both the candidate and the company. It is not costly to the company since the candidate will eventually pay this back. The candidate has time to pay off their visa rather than paying a large sum upfront.

Sponsorships are extremely beneficial for companies. Not only to be able to expand their candidate pool globally but also for FinTechs to diversify their workforces. To bring in new people with different backgrounds, cultures, and perspectives, companies have to be able to attract people from a wider array of places.  

More often than note we see sponsorships for Engineering candidates, as their skills and requirements are so niche that the company has no other option but open up their search globally. We are starting to see it more at the top end of hiring. Businesses looking abroad to bring in the right C-suite candidates. The impact that these people will have on the business is so high. Generally, for the middle roles e.g. Product managers and Designers don't see many visa transfers or executions as fewer businesses see the value of the investment."
The FinTech Sponsorship Process
Employers begin the process by completing the I-129 Petition for Non-immigrant Workers with U.S. Citizenship and Immigration Services (USCIS).
An important distinction should be made here: The H-1B visa and I-129 petition are solely for foreigners coming to the United States to work. US companies hiring employees overseas are not required to sponsor employee visas.
The I-129 petition process can move as quickly as a couple of weeks or as long as a few months. Often, employers sponsoring an employee for an H-1B visa seek assistance from their business attorney to expedite the process.
H-1B visas are good for three years and are easy to extend an additional three years. Some employees take advantage of the H-1B visa to begin the "green card" process if they desire to become a permanent citizen (immigrant).
Every company must petition for one of the 65,000 H-1B visas that are made available every April 1st by U.S. More applications are filed than visas are available within the first week of April. This meaning that the fate of the employee's visa rests in the hands of an annual lottery.
For more information on the H-1B visa and process, visit the United States government website. At Storm2, we believe that talent exists everywhere and with the correct experience of sponsoring international talent for FinTech firms, the process is worth the investment. Contact us to access our global network of specialist FinTech talent or to discuss your future hiring plans.