When starting or growing a company, establishing a strong culture should be a top focus. According to a recent study, company culture is a crucial element for 46 percent of job seekers, with 94% of entrepreneurs and 88% of job seekers agreeing that a healthy culture at work is essential for success.
While prioritising culture from the outset is critical, preserving that culture as your company grows can be difficult. So, what's the greatest strategy to grow your business while keeping culture in mind? Focusing on cultural fit, having a core set of principles, and keeping open to employee feedback are all critical techniques for ensuring that your company's culture can evolve with it.
Here are the tips to keep in mind as your company scales.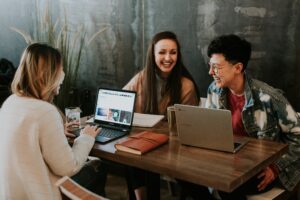 Have a strict hiring process
The most impactful way to maintain company culture is by hiring carefully. Make certain that your new hires aren't just qualified, but also a good fit. When interviewing, work as a group and check that they will get along with the people they will be working with on a daily basis.
At Storm2, we make sure to ask specific questions and provide candidates with a situational task to determine whether they are a good fit.
Embody your values
Ensure that your company's culture and values are front and centre during the hiring process; this will help your candidates make an informed decision. During the interview process, continue to discuss your company's values and culture, and ensure that your company's onboarding practises establish clear expectations so that new team members understand your culture from the start.
At Storm2, we encourage high performance through incentives, honesty through a trust culture with no blame, and responsibility by giving everyone autonomy over their day-to-day activities and the support they need to succeed.
Implement traditions
When a company is in its early stages, small traditions emerge that contribute to the company culture as well as its values. This is something that could be lost as the company grows, but it is critical that this does not happen. These traditions should be booked into everyone's calendar and discussed on a regular basis in order to keep them alive as the company grows.
The traditions we enforce range from celebrating every sale with a round of applause and ringing our in-office gong to having a brand mascot.
Communicate openly
Regular employee feedback is the most effective way to build a close-knit valued team and a strong culture. If it is not maintained, it is easily lost. Implementing an open-door policy will assist your company in staying on track. It's also a good idea to get out of the office once in a while and work alongside your employees for a day. This will assist you in better understanding any employee pain points and will demonstrate to your employees that you care about them and want to improve their experience.
At Storm2 we provide lots of opportunities to talk with leaders, we have an open-plan office, monthly reviews, and a great Tech stack to ensure communication when working from home.
Acknowledge employee achievements
Recognizing employee satisfaction is critical to the culture of the company because it fosters employee loyalty and satisfaction. It is critical to acknowledge birthdays, anniversaries, and significant life events in order to show the employee that you care. Highlighting work accomplishments and employees who embody the company's values is also important because it reinforces the culture and encourages other employees to follow suit.
We do this by providing clear promotion targets making a meritocratic environment. Organic growth, clear progression, performance bonuses, and external mentors to help everyone achieve their own success and fill knowledge gaps.
As a fast-growing company ourselves, we asked our Chief People Officer, Jamie Robinson, for his top tips. "It is important to hire for culture and include a requirement in your hiring process to hire people who want to be a part of and positively contribute to your culture. It is also vital that people move around, and older team members spend time with newer team members in different teams/locations. And lastly, build culture into your values and overcommunicate them – don't just put them on the wall, put them in performance reviews, on everyone's computer backgrounds, and in every all hands."
Although these are all good tips for an in-office setting, COVID 19 has changed the way offices operate, with many organisations now offering remote or hybrid work. Being present in the office is an important part of maintaining company culture, so this raises an interesting question. Can you keep company culture alive in a hybrid work environment?
3 ways to maintain a company culture in a hybrid work environment

Allow employees to choose how they work best
The pandemic has sparked employees to have more autonomy over their working hours and increased the desire for a good work life balance. In a survey conducted by staffing firm Robert Half, one in three professionals currently working from home due to the pandemic would look for a new job if required to be in the office full time. Allowing employees to choose how they want to work is the first step toward developing a strong hybrid company culture. It will boost morale, and employees will be integrated into the culture, allowing them to decide how they will work.
Recognise all employee efforts
Employees need to feel valued at work, and recognition, appreciation, and feedback can help them feel that way. Things that appear insignificant, such as a "thank you," cards, gifts, and recognition in front of colleagues, are extremely important as these are small gestures that go a long way toward demonstrating how much employees are valued.
Businesses should encourage managers to implement these practises with their teams. There is a clear benefit because happy employees are more productive and better integrated into the company culture.
Companies with hybrid workplaces want strong cultures that value the small things and take the initiative to demonstrate authentic forms of recognition.
Maintain social connections and opportunities for growth
Social connections and collaboration are essential for the development of strong corporate cultures. Successful hybrid cultures tend to need more than just social gatherings and work drinks.
Employees want access to leaders as well as opportunities for learning that arise from social interactions. Mentorship is one method for businesses to achieve this. Employees prefer to interact with one another in a way that promotes mutual growth, which mentorship provides, rather than taking online courses. Mentors also introduce us to others and help us grow our professional networks. As a result, there are even more social connections and opportunities for growth.
Although maintaining a company culture as the business grows can be difficult, it is doable if everyone works together to embody the core values, suggest new ideas, network, and learn from one another.
Are you a Fintech that is in the process of growing? Get in touch. We have a network of consultants ready to find you top talent who fit your culture and have the ability to propel your business forward.