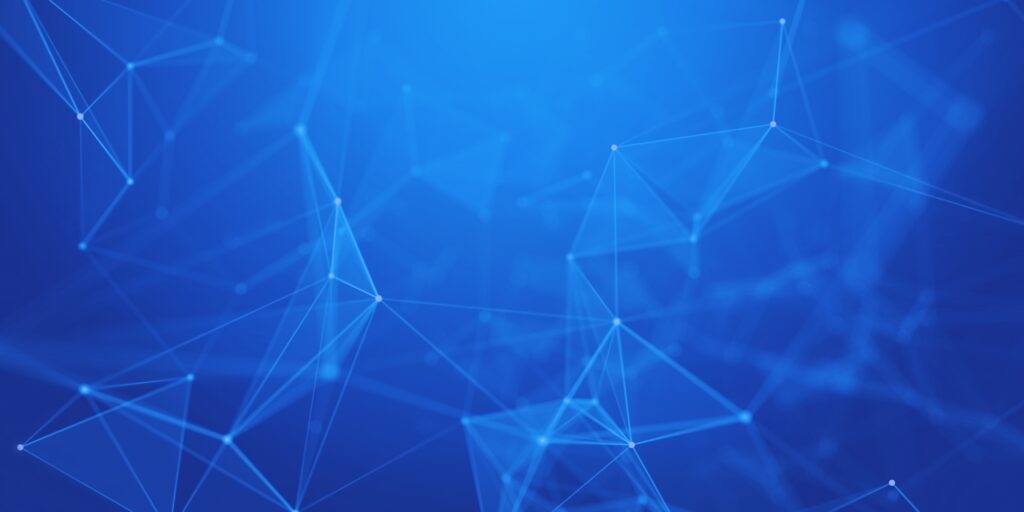 What Is Pre-Seed Funding?
To enable acceleration and sustain growth, most start-ups raise money through a series of investment rounds. If you're a first-time entrepreneur with a business that's still in the proof-of-concept stage or doesn't appear to have enough revenue to sustain growth or development, you might be able to obtain pre-seed funding from investors.
Pre-Seed investment is a type of early stage fundraising in which investors provide funds (sometimes up to $2 million) in exchange for equity in a start-up company. A Pre-Seed round of funding for a start-up occurs before the Seed and Series A rounds, and it may follow an angel round or a period of bootstrapping with your own funds.
Depending on the sector, you may anticipate receiving between $50k and $250k in a Pre-Seed funding round and are typically valued between $1M and $3M.

Characteristics of Pre-Seed funding for FinTech
• Funds are granted based on the founder's credibility. Less so on the company concept and are often made by entrepreneurs and their close relatives and friends.
• Investors are aware of the risks associated with this stage of start-up development and do not anticipate immediate returns.
• Founders are accountable to their investors, no matter how close they are personally.
• The company should concentrate on employing capital to get clarity on its value proposition, milestones, and future financial plans.
Examples Of FinTech Pre-Seed Funding
An example of one of the largest Pre-Seed funding is from the London based start-up, Nook. To reinvent business payments, Nook offers its platform which aims to simplify SME payments and invoicing. The company has now raised a notable £800,000 in its latest pre-seed round. Considering that the typical Pre-Seed funding amount falls between $50k-250k. This amount of £800,00surpasses industry standards. The company will use the fresh funds to further add new talent to its engineering and product team. It will also focus on further developing its product and commence sales, and marketing activity with SMEs and accountants. The start-up is currently a team of six and expects to expand the headcount to 10 by January 2022.
Team Sizes at Pre-Seed Funding Stage By Subsector
As experts in FinTech recruitment, we help scale FinTechs with their team growth plans. When speaking with early-stage start-up founders, we're often asked for advice around what specific teams should look like to have a successful next funding round.
This whitepaper showcases average team sizes for payments companies as they go through different funding rounds.
Each funding stage brings about it's own challenges and opportunities and the founders we speak to often only think about team structures once the funding round is complete. We hope that by presenting this data, we can help you think ahead and understand what hiring you might need to focus on to progress through to your next round.
Payments Team Sizes During Pre-Seed Funding
The data gathered in the following slides are from 70 companies within the payments sector of FinTech.
CrunchBase and LinkedIn were primarily used to gather data about companies and is correct as of October 2021.
During a Pre-Seed funding stage in the payments sector, the team is evenly distributed across the functions of the company. Team sizes are relatively small and it's probable that one person is covering multiple roles within the team. Once the business can source more funding, this is when you notice a more varied split between the departments.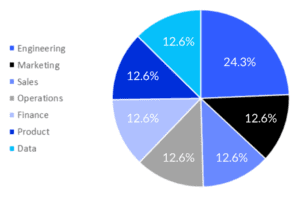 The average headcount of a Payments company at Pre-Seed is 13 employees.
This above graph represents the distribution of headcount for a Payment business at Pre-Seed funding stage. At early stage it's uncommon to have a 'Risk & Compliance' department as regulatory processes are usually outsourced until the Series A stage. In a Pre-Seed stage, the Data team is usually being overseen by employees in other functions rather than just one role as they have the necessary skills to apply these to other areas of the business.
Areas such as Marketing and some Developer roles, can be easily filled through external agencies. As headcount is small at this stage, there is likely only one Sales role, which often is the Chief Revenue Officer or Director-level role.
Click here to download the full report.
Blockchain Team Sizes During Pre-Seed Funding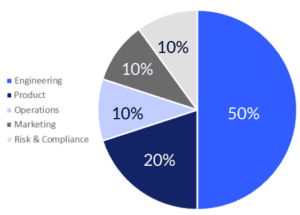 The average headcount of a Blockchain company at Pre-Seed is 14 employees.
During a Pre-Seed funding stage, only the core functions are covered internally as departments such as finance and data are outsourced until later funding stages when there is more capital available. The engineering team makes up the majority and each employee will have very different and complementary tech skills.
From the beginning, you should focus on having a robust infrastructure, scalability, and reliability. By having a strong engineering team from early on, the ability to deploy, monitor, and debug at speed can occur to enable rapid development.
Click here to download the full report.
InsurTech Team Sizes During Pre-Seed Funding
Because of a limited budget, the CEO of a Pre-Seed company is frequently in charge of numerous areas within the organisation. This is often expected as high-level executives are expensive. In the early stages of the business, it's often cheaper to outsource specific expertise before making an investment to bring it in-house.
Companies raise funds from family and friends, incubators, angel investors, or venture capitalists during this startup funding round. This funds product development and initial market launch in order to demonstrate product-market fit and initial growth. Typically, investments are made in the form of equity or convertibles.
Click here to download the full report.
Storm2 can help FinTechs at Pre-Seed stage with their growth plans. Get in touch for a confidential discussion on how we have helped businesses like yours. At Storm2, we understand how important it is to make the right hire. A specialized recruitment agency helps to stay on a lookout for seasoned candidates that have a strong potential to lead your company to success.