What Is Series A Funding?
The first venture capital funding for a start-up is known as Series A funding (also known as Series A financing or Series A investment). The Series A fundraising round comes after the seed round and before the Series B investment round for a start-up firm. The preferred stock class sold is referred to as "Series A." 
Receiving a Series A round of funding is a significant milestone for a start-up. Aside from the fact that the money is considerably larger than a seed round, companies must demonstrate that they have a minimum viable product (MVP) – not just a clever idea or team – in order to receive an A round. It is difficult for seed-stage enterprises to advance to a Series A round of funding. 
In fact, only about 10% of companies that raise a seed round go on to raise a Series A round of funding. In exchange for funding, venture investors receive the first series of preferred shares after the common stock issued at the seed round with a Series A investment. A Series A financing, on average, offers a firm with up to two years of runway to build its products, staff, and begin executing on its go-to-market strategies. 

Characteristics of Series A funding for FinTech
Average Series A Funding Amount in 2021 (based on funding data from the US): As of November 29, 2021, the average Series A investment round has increased throughout the years and is now around $21.8 million. In terms of the number of transactions and total investment, venture capital investment has held consistent in 2021. For example, there were at least 22 Series A deals in the week ending September 25th, 2021, totalling about half a billion dollars in venture capital. 
The mean Series A is much greater than the median Series A, which is worth noticing. The typical early-stage financing, which includes Series A, is expected to be $8 million in 2021. Because of the growing number of "mega-rounds," notably among biotech start-ups, there is a substantial gap between the mean and median. 
There were about 650 Series A deals in the U.S. in 2020, there have been approximately 763 as of October 29, 2021. 
Average Series A Start-up Valuation in 2021: Series A start-ups currently have a median pre-money valuation of around $24 million. 
Examples Of FinTech Series A Funding
One of the greatest examples relates to CredAvenue raising $90 million in India's biggest Series A funding round. CredAvenue operates a platform that connects corporates seeking loans with financial institutions and other investors who can facilitate such debt offerings through various instruments. The fintech start-up will use the funds to expand its product suite and ramp up its technology and data science infrastructure. 
Team Sizes at Series A Funding Stage By Subsector
As experts in FinTech recruitment, we help scale FinTechs with their team growth plans. When speaking with early-stage start-up founders, we're often asked for advice around what specific teams should look like to have a successful next funding round.  
This whitepaper showcases average team sizes for payments companies as they go through different funding rounds.  
Each funding stage brings about it's own challenges and opportunities and the founders we speak to often only think about team structures once the funding round is complete. We hope that by presenting this data, we can help you think ahead and understand what hiring you might need to focus on to progress through to your next round. 
Payments Team Sizes During Series A Funding
The data gathered in the following slides are from 70 companies within the payments sector of FinTech.  
CrunchBase and LinkedIn were primarily used to gather data about companies and is correct as of October 2021.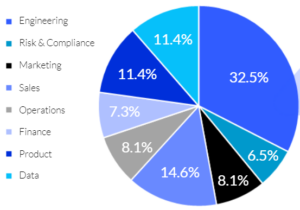 The average headcount of a Payments company at Series A is 74 employees. 
At Series A the team compositions start to shift. More budget is given to functions where headcount is needed, such as Sales, Compliance and Data, giving non-engineering functions a more even split.  
With an average headcount of 74 at Series A stage, we often find that Data roles are merged with Engineering teams rather than given a department of their own. 
Blockchain Team Sizes During Series A Funding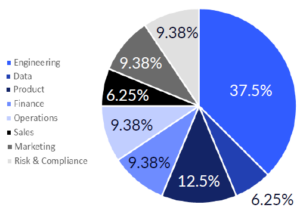 The average headcount of a Blockchain company at Series A is 50 employees.
The team composition at a blockchain Series A funding stage is similar to the Seed stage but the overall headcount is bring increased. We often find that Data roles are merged with Engineering teams rather than given a department of their own. Blockchain companies, like all FinTechs, need to follow local regulations and adopt risk mitigation measures and monitor financial processes. A rigid compliance team is vital at this stage and adds a layer of complication to the engineering team.
InsurTech Team Sizes During Series A Funding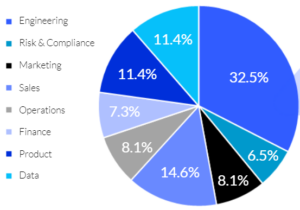 The average headcount of an InsurTech company at this stage is 47
During the Series A funding, team compositions are significantly shifting. This stage is when a bigger budget is given to functions where headcount is needed, such as Engineering, Sales, and Marketing, giving finance and operations functions a more even split.
After transforming your startup into a growth machine with Series A funding, the focus now shifts to developing the company quickly enough
to meet the increased demand. You must focus on where new market opportunities are to scale your business, either by location or product. The capital can then be utilized to expand your staff in all important areas (tech, sales, support, and marketing), enter new markets, and truly scale up your business.
Storm2 can help FinTechs at the Seed funding stage with their growth plans. Get in touch for a confidential discussion on how we have helped businesses like yours. At Storm2, we understand how important it is to make the right hire. A specialized recruitment agency helps to stay on a lookout for seasoned candidates that have a strong potential to lead your company to success.