An Interview With Sheena Allen, Founder and CEO of CapWay
Recently, Storm2 had the incredible opportunity to chat with Sheena Allen, Founder and CEO of CapWay. The Fintech, headquartered in Atlanta, GA, is a digital bank that creates equal financial opportunity for all through mobile banking and other financial tools and services. They were established in 2019.

How it all started
Sheena grew up in a small rural town in Mississippi. She had no intention of attending college and had originally planned to pursue a career in the arts. Majoring in film and psychology, with a minor in marketing, she had a brief foray into technology during her final year of college. In her final year of college, she had an idea for a mobile app, which she developed, and thus her first technology business was born; Sheena Allen Apps. The app was a huge hit, generating between 10,000-20,000 downloads per day.
CapWay came about while Sheena was traveling frequently between the Bay Area and Austin. She noticed that larger towns in the United States were putting increasing emphasis on credit and debit cards. In her home state of Mississippi, reliance on cash was still a major part of the culture and Sheena could tell that banking institutions were not focused on these people. It was evident that society was evolving toward a cashless economy. She asked what would that mean for people who did not have access to the resources necessary to make this transition, nor the education advocates to change opinions towards it?
Sheena recognizes that convincing those who rely solely on cash or do not trust financial institutions with their money has been challenging, but with the pandemic, it was not just one country or area that was affected. As a result of the pandemic, people were practically forced to use digital banking. CapWay is a solution to the change to a cashless economy and the closure of brick-and-mortar banks grows.
What makes CapWay special?
CapWay's team is extremely diverse, something Sheena prioritised from the offset. Traditional banking is extremely white, and Sheena had grown up around the notion of distrust in the "white man," the banker who prioritises their own interests over the needs of their customers. CapWay's team clearly reflects the diversity of their clients, with a wide range of ages, genders and ethnicities all represented. The team is not the normal team that people associate with banking and therefore, Sheena has found that her clients feel more at ease knowing that CapWay was built on shared lived experiences as their customer base. With such a broad set of people, each employee's perspective is valuable and adds a completely new and fresh viewpoint to the business, making it more valuable.
At CapWay, they emphasise that their employees:
"Work with CapWay, not for CapWay".
More on Sheena Allen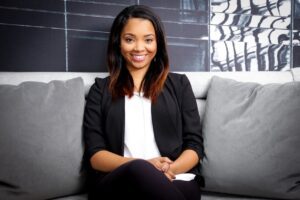 One of Sheena's fondest accomplishments, she says, was making her first actual hire because it represented so much responsibility. As the company grow and scales, she realises that as a founder her decisions affect so much whether her employees will eat next month. Being able to provide someone with the opportunity to help not just CapWay flourish, but also their own personal development. Giving someone the chance to do what they enjoy is something that Sheena treasures.
With her degree, she is able to put those skills to use in a fintech firm. Sheena is active in all parts of the content department, from graphics to videography. With psychology, they not only analayze clients' financial behaviour from a fintech standpoint, but they also question, "What is the financial mindset?" As an example, take budgeting. Having a spending plan is beneficial, but the perspective changes when one is living paycheck to paycheck. It's more of a survival crisis than a budgeting situation.
She has received numerous accolades throughout her career, including being the first black woman to receive the PayPal Maggie Lena-Walker award. She even stated that receiving this award was more prestigious than being named to Forbes' 30 under 30 list. Sheena has always been grateful for the recognition she has received for her work and accomplishments, but with her tunnel vision, she doesn't dwell on the praise. She will not allow awards to slow her down. Recognition does not mean she can relax and stop working hard. Being the ambitious person that she is, she does not allow other people's opinions of her, both positive and negative, to distract her.
"If you allow people to build you up, you also give them the power to tear you down. "
Biggest hurdles for the business
Funding is a crucial problem. Black women in general receive less funding for their enterprises, and this is a worldwide issue. FinTech investment is booming right now, and there is a lot of money available to be obtained. With so many FinTechs receiving funded, the question is "how can you differentiate yourself from the other start-ups in the industry that also need funding?"
What's the plan for CapWay in the coming years?
The objective is to hire hundreds of thousands of people over the next few years. They are currently focusing on the United States, but have plans to expand globally. Establishing a presence in Africa is indeed a priority. They strive to engage applicants who would not normally consider working in FinTech. Those minds that have never considered a career in finance or technology are the ones who will truly bring a fresh perspective to the organization and help it differentiate itself from competitors. You can work in fintech without being technically savvy.
CapWay has a programme dubbed 'Culture Meets Money,' which intends to support in the company's future growth. The cornerstone of the purpose is to provide internships in order to integrate people from diverse backgrounds into the business. Bringing in people from various cultures who had never considered a career in banking is how they intend to differentiate themselves and be more inventive. New ideas are just as fundamental as new skill sets.
"This is not just FinTech, this is COMMUNITY"
If your company value diversity as much as CapWay, read our piece on how you can encourage diversity in your business and learn more about diversity and inclusion in FinTech.
Your Partner in Growth
As the FinTech industry continues to grow, so does the need for talent to facilitate this. At Storm2 we have specialized in connecting FinTech talent with disruptive FinTech players such as yourself. We can assist in any stage of your growth by connecting you with the right people. Please don't hesitate to get in touch and we would be more than happy to see how we can help and support you in your journey and with your recruitment needs.