When Should A Company Hire A Chief Product Officer (CPO)?
The CPO title has been a little diluted because of how many startups give it to the most senior product person independent of their experience. There are many VPs of Product who are trusted partners of the C-level execs and perform many CPO duties without the title. Hiring a CPO can be complex due to the current lack of understanding of what the role actually entails. This article should help with understanding what the role is. Being able to hire the most suitable CPO for your company starts with understanding your own companies vision and trajectory.
Chief Product Officers (CPO) are strategic leaders, visionaries, team supervisors, and product ambassadors for their organizations. The CPO's primary purpose is to lead and facilitate the development of products that provide value to both customers and the business. They typically report to the CEO.
A CPO will take the lead on ensuring customer satisfaction and developing a successful and strategic product vision. This encompasses conception and discovery to innovation, design, development, launch, and beyond. They will create and manage the product roadmap. A CPO will be a master of multitasking and will be at ease managing a wide range of initiatives.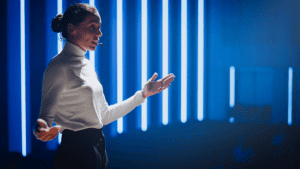 The Chief Product Officer's responsibility is to guarantee that the company's product objective is successfully executed through the development of the company's web and app platforms. This necessitates imagining the company's service offerings as a web-based business, leading the product team in the creation of apps and features, and preparing for risk, monetisation, and growth.
The increased demand for product managers and the requirement to offer actual value through digital goods has made firms bring on C-level executives to oversee product.
Roles And Responsibilities Of A CPO
Product Strategy, Vision, Design, and Development
User Research
Product Growth And Marketing
Product Analytics And Metrics
Structuring The Product Organization
Interviewing, Recruiting, And Supervising Product Employees And Teams
The Role Of A FinTech CPO
Cutting-edge technical skills in financial services are difficult to find. Many industries now fight for the same people, and the talent pool hasn't kept up with demand. CPOs are typically employed when a company's operations begin to scale, and the founders need to focus on operational issues and spend more time with investors. This, paired with the sector's relative youth, means that fintech CPOs haven't been around for very long and are still defining their duties. Products and services must entice customers and be financially successful while also meeting the often onerous and changing compliance standards in areas like as financial crime and customer protection.
Many organizations promote CPOs from within. Internal promotions are relatively common, which may explain why almost half of the CPOs have never held the job before. Promoting from inside implies that the CPO understands how things function and will be able to hit the ground running in many areas, even if there are any competency gaps.
When To Hire A CPO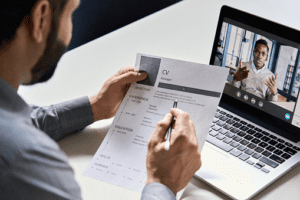 If the cost of development rises without an increase in growth. If, over the last 2-3 quarters, your development costs have risen and revenue growth has slowed, despite the fact that the market still has a high potential. This is an indication that a senior leader who understands and can analayze product and growth plans and opportunities is required.
If a company needs a leader to help connect fragmented customer experiences and business strategy across product functions. When the team across many elements of the organization does not match the KPIs, this can be highly problematic, thus keeping them in sync is critical.
After recently acquiring or merging with another company. If your company is struggling to combine and consolidate a product portfolio, product strategy, and product-operating model.
"Typically, you see a company look to onboard a CPO during their seed or pre-seed round of funding. This is mainly due to most FinTechs looking to establish a minimal viable product and Market fit for their product/ business case to further attract investments rounds. Sometimes it can be the case that the CEO, founder or other C-suite might lead the Product vision early on. In these cases, they typically look to onboard a CPO or VP of Product later on i.e. Series A."
– Joe Ragheb (Associate Director, Storm2)
How To Structure Your Product Team
The most successful configuration has a VP of Product or Chief Product Officer leading the team. Product managers' tasks are divided not by product, but by skill set. You can use your product managers' diverse skill sets across many products under this product team structure.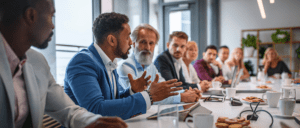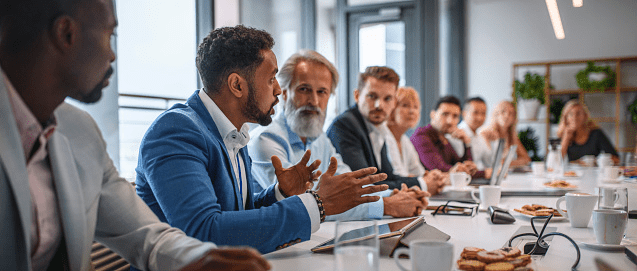 One product manager may take the lead on market research and creating user persona expertise across your whole product line. This product team structure may suit some businesses since it allows them to establish high degrees of subject expertise on numerous parts of their products and market. However, one disadvantage of employing this paradigm is that if one product manager leaves, the entire team may be left without any domain knowledge that the PM possessed.
Other functions which are important in a product team include:
Product Management
User Experience (UX)
Product Design (UI)
Product Analytics
Product Marketing
Here is an example of a Product team: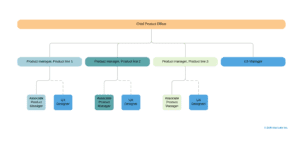 How Much To Pay A CPO?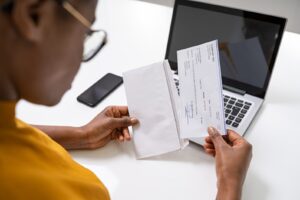 Salary ranges can vary widely depending on many important factors, including education, certifications, additional skills, the number of years you have spent in your profession.
The average Chief Product Officer salary in the United States is $249,801 as of September 27, 2021, but the range typically falls between $220,501 and $278,401.
In the UK, the average salary for a CPO is £108,070 but the range is from £48,000 to £170,000.
What Skills Do I Need to Become A CPO?
You'll need a bachelor's degree at the minimum to achieve the position of CPO. However, some 53% of CPOs have a master's degree (another 7% have a doctorate).
It's recommended to have 10 years of experience in product-related fields.
To maximize your success, we recommend that you do two things:
Stay within an industry. While it's okay to move around between companies, you'll need to demonstrate industry knowledge.
Take on many product-related roles. The more knowledge you can demonstrate about the product lifecycle, the stronger candidate you will be.
The skills you need to excel at this role fall into five distinct categories:
Get used to leading teams because you'll consistently do it. People will look to you for guidance and direction.
You'll work with an array of people every day. From managing project managers to mentoring employees, you'll need a firm grasp on organizational behaviour and how teams' function.
Data analytics. Product analytics will guide many of the decisions you make regarding a company's product portfolio. You'll need to know how to research the right information to make informed decisions.
Product strategy. Integral to a successful product includes the ability to identify market and positioning opportunities as well as roadmapping and planning.
This includes getting other board members to buy into ideas, discussing product potential with investors, and even motivating employees to turn them into product ambassadors. You may also provide input to the marketing department on campaigns, so make sure you've got marketing fundamentals covered.
Storm2 has placed a significant number of CPOs across the world in some of the top FinTechs, so contact us if you require competent and well-seasoned expertise.