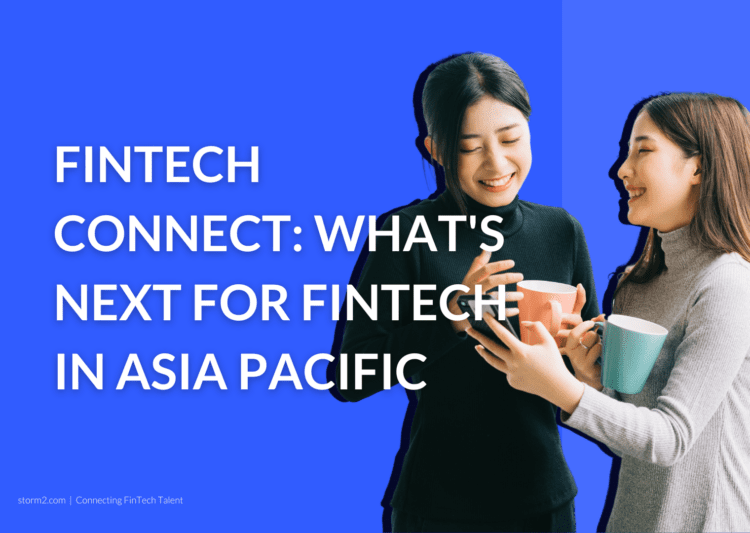 Asia Pacific has been known to be home to the fastest-growing FinTech industry globally with major FinTech players based in this region. The FinTech industry of Asia Pacific holds a massive growth potential with mature markets like China and smaller emerging markets. It also has one of the highest numbers of FinTech users globally and is expected to generate the most revenue in this sector.
In Asia Pacific, we are expecting to see a rise in Buy Now Pay Later, Cryptocurrency-related services, Payments-related products and more. A strong rebound in Asia Pacific's FinTech funding in 2021 suggest investors' deepening conviction in FinTech. It is believed that venture capitalists are likely to remain invested in the fintech space. With the uncertainty of the market conditions, it might encourage prudence, nudging investors toward mature FinTechs that have demonstrated financial discipline.
About the Event: What's Next for FinTech in Asia Pacific
In our latest event, we invited CEO and Co-Founder of Opal, Ming Wang Lim and CEO and Co-Founder of TradeTogether, Geoff Ira to speak about the future of FinTech in Asia Pacific. Commercial Manager of Storm2 Singapore, Stephanie Garcia led the event.
Find out their take on how disruptive FinTechs will be on traditional financial services, some subsector in FinTech we should keep an eye out for and their companies' upcoming plans that we can be expecting to see.
"What Are The FinTech trends We Can Expect To See in 2022?"
"The way of consuming and paying for consumers have shifted to the 'new normal' due to the aftereffects of the pandemic. Services like online payments have exploded in 2021 and it can be expected to stay the same even in 2022. Even the level of innovation has been very active in 2021 and it is expected to stay that way. Just in Asia, we are expecting to have 10 trillion of consumption growth opportunity in the next decade, there is a strong opportunity in Asia Pacific.
From a consumer experience perspective, FinTechs are moving towards a mobile-first approach and embedded finance are expected to increase in popularity in the near future. Mobile-first approach is defined as the ability to do everything with your mobile phone. For example, ride-hailing services, payments, insurance and more."
– Geoff Ira
"I do see the rise of neobanks trying to enhance the user experience in their respective niches. We also see a rise in pure-payments players, incorporating insurance and trying to embed other value-added products into their mainstream so I think that will help them potentially evolve into some sort of a neobank potentially. That would be an interesting development. Perhaps a bit more nascent in Asia but we have seen this taking place on the states in Europe. Another thing that that is obvious, the evolution of firms that considering the adoption of blockchain technologies, perhaps as a compliment or alternative to more mainstream payment networks, this has been really boosted by acting the development of blockchain technology. For example, looking at Polygon being able to handle larger number of transactions and at lower gas fees has made it much more economical for firms to adopt it.
Decentralised finance which seems to be pushing towards a more open banking, open financial agenda. We also see banking-as-a-service, we would want to keep an eye on this because banking-as-a-service provides an agile modular system for traditional banks to incorporate all sorts of different capabilities. So it is not limited to new FinTechs, but also traditional banks starting to look at new ways to evolve. And lastly, the rise of Buy Now Pay Later, we do see a lot of use cases coming from it. From the consumers' common purchases to higher ticket items and to even potentially paying your business costs."
– Ming Wang Lim
About Our Guest Speakers
Headquartered in Singapore, Opal is a leading provider of end-to-end, regulated payment and business solutions based on a robust, proven platform and proprietary technology. It is licensed as a Major Payment Institution (MPI) by Monetary Authority of Singapore.
TradeTogether, a FinTech digital asset management company is the first robo-advisory for crypto in Singapore to operate under a regulatory exemption to manage funds investing for accredited and institutional investors. TradeTogether exclusively provides investment management services related to investing in cryptocurrencies and other digital assets.
How Storm2 Can Help
The FinTech industry is filled with endless potential and growth as it continues to evolve. As global leading FinTech talent marketplace, we have made it our mission to help emerging FinTechs succeed in this journey. With a strong industry outlook, it should also be complemented with a team of successful talent to lead your startup to success. To chat more about the market or your hiring needs, contact us now for a confidential chat.
If you are interested in organizing the next FinTech event with us or any other marketing-related queries, get in touch with us here.