What Is Seed Funding?
Also known as seed capital and seed money, seed funding is a type of equity-based funding in which an investor invests capital into a business during its early stages in exchange for equity stake. The business owner receives capital to fund his or her idea, while the investor acquires partial ownership of the business. So, when the business succeeds and becomes profitable, the investor can sell his or her shares for a profit.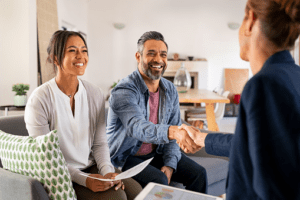 The primary purpose of seed funding is to essentially get a business up and running and off the ground. Start-ups often struggle to turn a profit simply because they lack the funding needed to get their business going. Additionally, acquiring debt-based capital isn't always easy due to a lack of cashflow and limited operating history. Seed funding, however, offers a simple and effective funding solution to help new businesses get off the ground. 
Seed Funding can be a turning point for many start-ups. However, the initial rounds can also be the end for many others as they don't get the desired funding to pursue their plans. 
Characteristics of Seed funding for FinTech
Common sources of Seed funding include angel investors, accredited investors, and equity crowdfunding investors. With that said, it's not uncommon for a start-up business's own founders to offer seed funding. 
A start-up business's valuation is important when seeking seed funding. The Chron article cited above explains that start-up valuation determines the return on investment (ROI). How much money you raise with Seed Funding depends on a number of factors, and varies from company to company. Typically, Seed Funding start-ups can raise up to £2 million. 
Examples Of FinTech Seed Funding
In India, start-ups in the FinTech space garnered the maximum eyeballs in the first five months of this year. The sector attracted the highest amount of seed funding in the January-May period of 2021. Fintech is an evergreen sector and while some sentiment in the lending space may have dimmed a bit due to Covid related overhang, other spaces such as investments saw a good market uptick.  
Among European countries too, FinTech was among the highest seed-funded sectors in the January to May period. For instance, in France, fintech attracted $32.3 million in seed funding, the highest when compared to other sectors. Similarly, in Germany, the top five seed-funded sectors included retail, FinTech, enterprise applications, technology and Healthtech. 
Team Sizes at Seed Funding Stage By Subsector
As experts in FinTech recruitment, we help scale FinTechs with their team growth plans. When speaking with early-stage start-up founders, we're often asked for advice around what specific teams should look like to have a successful next funding round.  
This whitepaper showcases average team sizes for payments companies as they go through different funding rounds.  
Each funding stage brings about it's own challenges and opportunities and the founders we speak to often only think about team structures once the funding round is complete. We hope that by presenting this data, we can help you think ahead and understand what hiring you might need to focus on to progress through to your next round. 
Payments Team Sizes During Seed Funding
The data gathered in the following slides are from 70 companies within the payments sector of FinTech.  
CrunchBase and LinkedIn were primarily used to gather data about companies and is correct as of October 2021.  
As the funding stage progresses from Pre-Seed to Seed, the engineering department becomes noticeable more significant of the overall team composition ratio. This stage is where the CTO and CRO really come into their own as their teams grow and they can step into executive leadership roles. Prior to this, they may have spent more time 'doing' through necessity of skillset and lack of additional resource.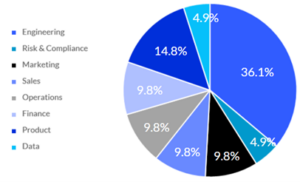 The average headcount of a Payments company at Seed is 32 employees. 
This above graph represents the distribution of headcount for a Payment business at Seed funding stage. At this stage, a FinTech's engineering headcount becomes a higher proportion of the business. The segments are getting increasingly differentiated due to a natural progression into 'priority hires' and hiring for specific expertise.  
Blockchain Team Sizes During Seed Funding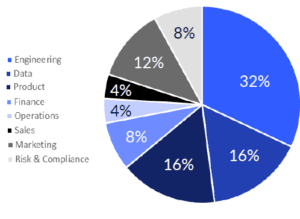 The average headcount of a Blockchain company at Seed is 34 employees. 
At Seed, the engineering headcount becomes a smaller proportion of the business as other functions within the business become filled. Full-stack developers are a popular hire at this stage because your business needs to start building everything from scratch internally.
Once you've identified your product's market fit, created a scalable and repeatable offering, and established the groundwork for scaling sales, it's time to supercharge your growth. This is where Series A comes in. 
Click here to download the full report.
 InsurTech Team Sizes During Seed Funding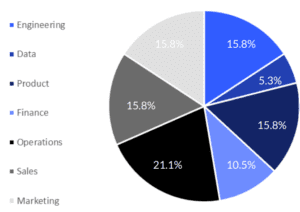 The average headcount of an InsurTech company at Seed is 20
A FinTech's engineering headcount becomes a higher proportion of the business. The segments are increasingly differentiated due to a natural progression into 'priority hires' and hiring for specific expertise.
The funds raised can then be spent to truly optimize your product and business for scalability, while also expanding your team to meet demand. Investors anticipate exceptional growth following your Series A.