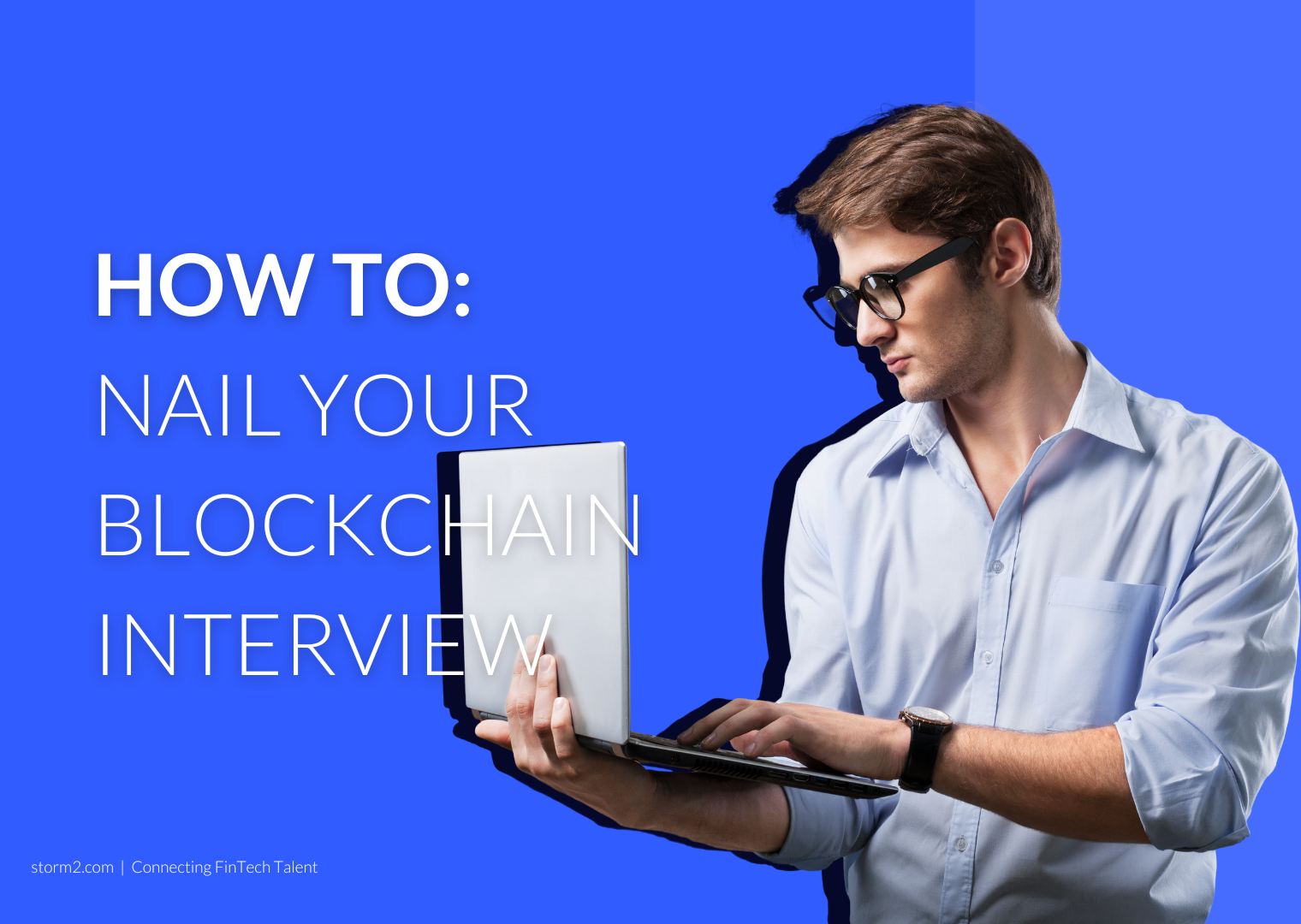 Preparing for Your Blockchain Interview

The FinTech space is constantly diversifying – one of the biggest markets being blockchain. In the technology world, cryptocurrencies like Bitcoin are reliant on a database to track large volumes of transactions and keeping them secure. Blockchain is the solution that the largest digital currencies utilize to safely provide their services.
As the world becomes smarter and more inter-connected than ever before, it's important that blockchain companies are hiring top-tier talent. To ensure you master a blockchain interview, here are some tips you need to remember!
Start with the fundamentals of blockchain
Research and build your blockchain network
Ask questions important to you
Be aware of current and future blockchain trends
Have one big motivation
Predict the blockchain questions
Communicate your value
Start with the fundamentals of blockchain
When preparing for a blockchain interview, understanding the fundamentals of the sector are crucial. It's inevitable that you will be asked questions. Having a clear concept of blockchain technology is best so you can answer any question given to you.
Learning blockchain technology, the different features, and history is important to familiarize yourself with to nail your interview!
Learn about different blockchain platforms
Blockchain platforms allow users and developers to create uses from an existing blockchain infrastructure. This is where programmable tokens like initial coin offerings (ICOs) or non-fungible tokens (NFTs) live. There are many of these platforms in the blockchain universe, some of the most popular being Ethereum, Hyperledger Fabric, and IBM Blockchain. Make sure to familiarize yourself with the trending platforms and gain industry knowledge.
Research and your build network
Understanding the market is imperative for anyone to grow into an industry expert. You can do this through extensive research and building out your professional network. Through this interview process – LinkedIn will be your best friend.
You can use LinkedIn to research people you'll be speaking with and build out your network in the blockchain space. Following industry professionals will help you to stay up to date on current trends, news happening within companies you're interested in, and engrain yourself with the ins and outs of the industry.
In other words, this is the time to build out your network to also visit the company and consider: What about it excites you? Crunchbase can also be a helpful tool for latest news, researching company competitors, and determine the company's key differentiators.
Ask questions that are important to you
Through your research of the company and sector, odds are, you have some questions ready to ask the employer. By asking the questions that mean most to you, you'll promote a richer conversation between yourself and the interviewer. In addition to asking important questions, ask those 'hard to ask' questions; an interview is a two-way street, therefore you need to be just as sure this is the right role for you as the interviewer needs to know you're the right person for the position.
Be aware of current and future blockchain trends
Some good ways to familiarize yourself with current and future trends are to join a blockchain community. This will help you stand out from other candidates and become an expert within the space. For instance, a blockchain community can help you to:
Sharpen your coding skills
Stay up to date in blockchain
Know the latest technological changes
Upgrade your leadership skills and application development
Learn about new organizations
Predict the Questions
After you've familiarized yourself with technical knowledge and the company you're interviewing for – get ready for the questions that lie ahead…
Your reason for choosing the company
Reason for making the career move
What you're motivated by
If your plans are long-term
Strengths and weaknesses

Communicate your value
The most important part of any interview is to prove yourself as a valuable expert in the field. Communicating your value in blockchain is imperative for professionals in the sector to relay solutions to potential clients and expertly work in a collaborative environment.
Although having a good grasp on the technical side of blockchain is key, make sure your communicative skills are just as strong!
Wrapping Up
The world of blockchain can seem overwhelming and it can become hard to excel in an interview if you aren't familiar with the space. Although knowing technology is important – your communication skills are just as key to nailing this interview! Therefore, showing expertise in your field will get you to land this job without any hassle and ace your blockchain interview.
Why Storm2?
As global talent for mobile wallets expands, we strive to connect disruptive FinTech companies to top FinTech talents to help companies scale. We connect experienced payments professionals that can help scale and build the next FinTech app that will disrupt the industry and improve consumers' financial well-being. Contact us now to find out how we can support you and your startup to success.