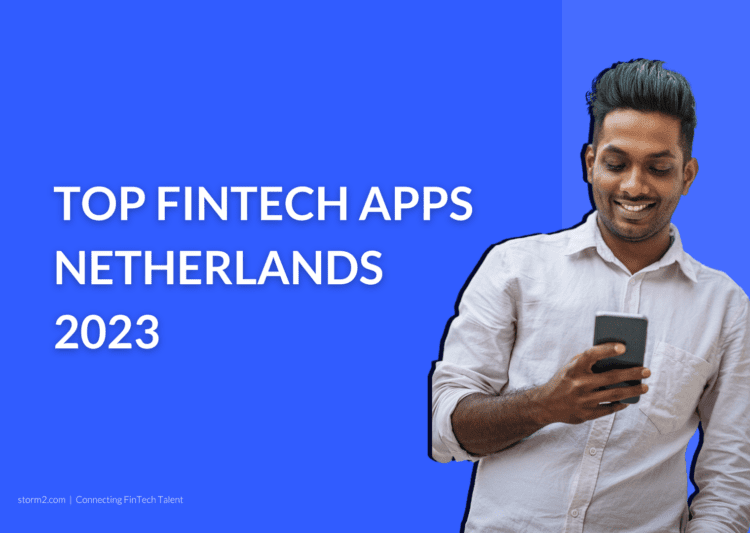 Without wasting any time, let's get straight into our list of the top FinTech apps in the Netherlands in 2023. Kicking it off with the one and only digital banking category.

Europe's most popular digital bank was founded in 2015 by Nikolay Storonsky and Vlad Yatsenko. Today, the neobank serves 25 million customers worldwide that use dozens of Revolut's innovative products to make more than 250 million transactions a month. Given its feature-packed accounts and its integration with the Dutch payment system iDeal, Revolut is a great option for anyone looking to ditch traditional brick-and-mortar banking. Its availability in multiple languages makes Revolut a no-brainer for expats in the Netherlands looking for a fully digital banking experience. Your money is also protected by the Bank of Lithuania, which provides the security and reassurance many associate with traditional banks. One thing to keep in mind is that Revolut in the Netherlands will not provide you with a Dutch IBAN, in most cases this is not an issue but for some government-related things, this could result in a bit more paperwork for verification.

The Amsterdam-based neobank recently became the first EU challenger bank to report quarterly profits. bunq reported that it had reached a pre-tax profit of €2.3 million in the last quarter of 2022. The digital bank also announced that its user deposits have risen to €2.3 billion, a figure up by 91% year-over-year. Much like its competitor, Revolut, bunq is feature-packed and a great option for those who enjoy moving around and travelling. For people residing in The Netherlands, bunq is not only a great option because of all the features, but its accounts also come with a Dutch IBAN which makes dealing with certain businesses and organisations easier. However, one thing to keep in mind is, bunq's cheapest account option (savings account excluded) comes at a cost of €2.99/month.
Much like its Dutch counterpart bunq, Knab is headquartered in Amsterdam. The digital bank was founded in 2012 by Marcel Kalse and René Frijters. The challenger bank focuses on freelancers but also offers private customer accounts. While not as feature packed as Revolut or bunq, Knab is still a great option for those who want to arrange their financial lives digitally. Unfortunately, for private customers at least, knab is definitely the most expensive option coming in at €6/month.

When thinking about trading cryptocurrencies more often than not Coinbase or Binance come to mind. What Coinbase is to the US, Bitvavo is to Europe. Founded in 2018, and headquartered in Amsterdam, Bitvavo is trusted by over one million European users. On a mission to make digital assets accessible to everyone, the crypto exchange offers its customers a user-friendly and reliable trading platform with a wide variety of digital assets to buy, sell, and store over 180 digital assets. Bitvavo is subject to the EU's AMLD5 and GDPR legislations. A foundation called Bitvavo Payments has been created and operates for Bitvavo as a bankruptcy-remote vehicle to safeguard users' funds.

The Amsterdam-based neobroker was founded in 2014 by Egbert Pronk, Joost van de Wijgerd, Kai Kaïn Bennink, Nick Bortot, Robbert Bos and Zowie Langdon. To date, BUX has raised $115.8 million and is currently Series C funded. BUX's flagship platform, BUX Zero, is making commission-free investing more accessible and allows users to invest in the companies they believe in. Users can invest in stocks, ETFs and crypto. BUX Zero is currently available in the Netherlands, Germany, Spain, Austria, France, Italy, Ireland and Belgium. The full range of BUX products, including Stryk, are available across 8 countries in Europe.
Amsterdam-based Peaks makes it easy to set money aside and start investing. Peaks was created in 2016 with the goal of making it possible for anybody to invest and attain financial freedom. The investing app lets users invest as little as €1. Customers can invest the spare change from their bank transactions which is then deposited into their investment account. At Peaks you can only invest in sustainable ETFs; you only invest in the most sustainable companies in their industry.
Dyme combines financial data with the latest machine learning technologies to offer its users a state-of-the-art solution for subscription management. With the Dyme application, users gain insight into their recurring expenses, listing all subscriptions in one clear overview. Dyme lets users manage, cancel, and switch their subscriptions, with a single click.
WieBetaaltWat aka Splitser is a popular app in the Netherlands to keep track of your group expenses. Easily enter your expenses and check the group balance. Settle the list and we calculate exactly who owes who.
Lemonade is digital insurance built on social impact. That means you can sign up instantly to cover your stuff, home, pets, family and car all within one app. It also means your unused premiums are donated to a charity of your choice through Lemonade's Giveback, which has given over $4 million to non-profit organizations around the world. In The Netherlands, Lemonade offers customers contents and liability insurance.
in3 is an innovative Dutch payment solution that lets consumers pay in 3 equal parts without interest or BKR registration. The first instalment is paid directly at the check-out via iDEAL, and the second and third instalments follow within 30 and 60 days. in3 is a socially responsible payment method. They earn their money from successful transactions and guard against irresponsible spending.
Your Partner in Growth
As the FinTech industry continues to grow, so does the need for talent to facilitate this. At Storm2 we have specialized in connecting FinTech talent with disruptive FinTech players such as yourself. We can assist in any stage of your growth by connecting you with the right people. Please don't hesitate to get in touch and we would be more than happy to see how we can help and support you in your journey and with your recruitment needs.