FinTech start-ups believe that certain geographic locations are ideal for launching a new product or service. While the image of the US technology industry evokes the bright, sunny climate of San Francisco, there are plenty of FinTech companies operating on the East Coast, particularly in New York and Miami. San Francisco is less formal than New York, and the West Coast culture is known for its creativity. Although the San Francisco Bay Area's tech scene outweighs that of New York City, the gap is closing every year.
What is the top global FinTech hub in the globe as the industry enters a new decade of fast expansion and innovation?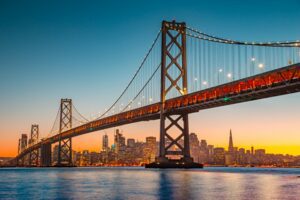 West Coast
Top West Coast FinTech hubs include:
San Francisco
Los Angeles
San Francisco
San Francisco is at the top of the list as one of the best examples of how to create and maintain a vibrant FinTech hub. They are difficult to overtake due to a combination of competitive landscape, favorable rules, talent, and financial power. These gateway hubs benefit the countries and areas in which they are anchored, allowing for market-shaping innovations, and spurring the establishment of further clusters in neighboring towns and cities (a 'spill over' effect).
San Francisco has emerged as the undisputed global leader in FinTech hubs, followed by London, New York, Singapore, and Sao Paulo. Here are some of the factors that have aided San Francisco's diversified FinTech ecosystem in achieving the top spot:
Los Angeles
A hotbed of entrepreneurial talent, diversity of cultures, a penchant for relationship building and comparatively cheaper rents have made Los Angeles fertile ground for FinTechs. The city has, in recent years, seen a growth in both startup activity and venture capital investments, which has fueled momentum for several of LA's leading FinTechs, including Aspiration, Tala and Honey.
Some LA-based FinTechs benefit from being based near to UCLA where they get top talent from while a further attraction to the city is that rents in western Los Angeles tend to be cheaper than San Francisco.
Over the past few years, Los Angeles has seen significant growth in local startup activity. With a large and diverse population, this FinTech hub offers startups with increasingly better incentives in terms of costs in comparison to both Silicon Valley and New York City. Moreover, Los Angeles enables widespread innovation due to the involvement and collaboration with non-finance talent to improve services across industries.

East Coast
Top East Coast FinTech hubs include:
New York
New York City boasts 150,000 tech jobs, and the city's leaders, conscious of the tech sector's potential to create more jobs and wealth, have been encouraging the emergence of skilled IT graduates.
New York is one of the world's great financial centers, so it is no surprise that a city hosts the headquarters of some of the largest banking and investment companies would also be home to a thriving FinTech scene. New York was an obvious choice for a lot of the companies who knew they'd be able to attract a lot of financial talent.
The centralized nature of the FinTech scene makes the Big Apple ripe for networking and collaboration. Incubators such as FinTech Innovation Lab help new companies learn the broader banking landscape, and lots of conferences, meetups, and other tech events in NYC focus on finance tech exclusively.
In contrast to Silicon Valley, New York has a significant potential customer base of financial institutions and a large existing FinTech workforce, as well as a budding venture environment. As a result, New York is a logical contender to become a global FinTech capital, bringing new employment and capital to the city while also ensuring the US financial services industry's long-term competitiveness. A new generation of FinTech companies has emerged in New York, creating a new chapter in the city's history as a technology hub.
Miami
In Miami, half of their residents were born outside of the US where there is no lack of idealism and determination. The city itself might be classified as a 'challenger,' having taken advantage of the uncertainties and disruptions stemming from the pandemic to cultivate a welcoming environment for innovation. South Florida is poised to reap the benefits of cryptocurrencies becoming less of a meme and more of a viable alternative to fiat currencies.
With Spanish, Portuguese and Creole languages comfortably coexisting alongside English in Florida's most multicultural region, it's far from a stretch to see Miami as the portal to Latin America. On top of South Florida's deep cultural ties to Latin America, the Greater Miami area benefits from having three international airports offering direct flights to all major destinations in Latin America and the Caribbean.
The Shift from the West Coast to The East Coast
The natural advantages that are inherent to the density of the New York metro area and the diversity of its economy and 20 million people. For all that New Yorkers gripe about the subway, the speed with which entrepreneurs can move around the city means that ideas have more opportunity to germinate in a more diverse hotbed, and the benefits that that brings are becoming more obvious to investors and entrepreneurs alike. The noise of New York, and the resultant competition for attention, means that start-ups seeking to attract top talent need to invest in fewer accoutrements and gimmicks. The competition for attention that the city generates means that even good ideas and good companies must work harder to be heard therefore creating better products and services in the process.
When FinTech investment slowed in Silicon Valley, they panicked. This was partially because of the region's over-dependence on one single industry: technology. New York's reaction was more muted, reflecting both the economy's diversification and Wall Street's systemic experience with investment cycle ebbs and flows.
When it comes to computer software and other technologies needed to support or enable banking and financial services, the East Coast is more "evolutionary." The West Coast takes a more progressive approach, focusing on revamping systems rather than increasing them and accounting for hidden costs. There is a significant lifestyle difference between New York and California, which is reflected in the diverse job environments. San Francisco attracts innovators searching for a change of pace from their day-to-day jobs. People come to New York to start or advance their careers in investment banking, consulting, accounting, or any of the other buy-side roles, and they follow a predictable route.
Similarly, there is no longer an inherent correlation between a city's financial prosperity and its commercial strength. Smaller cities and areas with a pro-Fintech mindset can create comprehensive financial services centers that outperform their larger counterparts. Rankings can be established on a well-rounded approach by establishing a combination of ecosystem indicators such as top industry events, FinTech incubator & accelerator programs, availability to online payment systems, or the number of local fintech unicorns. The geographical location is determined by your vision of your career advancement, skill set, and ideal corporate culture.
For more information on the US FinTech landscape, have a read of our recent article US FinTech Statistics.