What Is Series D+ Funding?
There is no limit to how many financing rounds a start-up can receive beyond Series D. Saturating markets and planning for exit are best accomplished with a Series D+ capital round. An acquisition or an initial public offering (IPO) are two examples of exits. Even though Series D and later rounds are the least common, some companies go on to raise funds in Series D, E, F, and beyond. The truth is that not all start-ups make it this far.
Typically, a company's external equity fundraising will come to an end with Series D. Companies can still go to the Series D and Series E rounds of investment. For the most part, companies are gaining hundreds of millions of dollars in funding in the Series D+ rounds.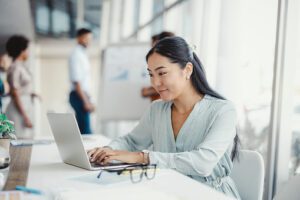 There are usually two reasons a start-up goes past the Series D+ funding round.
They are:
New opportunities: A potentially lucrative opportunity appears that requires the company to act before the Initial Public Offering (IPO).
Mediocre performance: The start-up misses the goals set during the Series D round of funding. It then raises more funds in the Series D round to address the issues.
There is no limit to how many funding rounds a start-up can go through. If a company has more advanced revenue goals, it may complete as many fundraising series as necessary.
Characteristics of FinTech Series D+ funding
As a company reaches these stages of funding, there is a chance they will consider Mezzanine and a IPO.
Mezzanine Funding And Bridge Loans
These loans are intended for companies with a market value of at least $100 million. For lenders, a mezzanine loan blends debt and equity, whereas bridge loans are used for short-term funding. They bridge the financial gap between this stage and the initial public offering. The capital might be used to buy out a company's management or acquire a competitor. Loans typically last six to twelve months and are repaid with IPO profits.
IPO
An IPO is the pinnacle of start-up success. It occurs when shares of the company are offered up for public purchase for the first time. The IPO is used to generate funds for further growth or allowing the start-up owners to cash out their remaining shares for personal income.
Important events occur in preparation to issue an IPO are:
Formation of a public offering team comprised of SEC experts, lawyers, accountants, and underwriters
Compilation of the start-up's information such as financials and anticipated future operations
Preparation of an audit of the company's financial statements
Completion of the governmental IPO requirements, which include filing the start-up prospectus with the SEC and formalizing the offering date
Series D+ Funding Round Typical Investors
Series D+ investors include investment banks and private equity firms such as:
Examples Of FinTech Series D+ Funding
Rivian, headquartered in Irvine, California, closed a $2.65 billion private equity deal headed by T. Rowe Price only 19 days into 2021, making it the second-largest round of the year. The company labelled 2021 a "important year" when it launched the round, citing the launch of a handful of electric vehicles. Few people knew Rivian was only getting started for the year at the time.
Early plans for a gas-powered sports car were driven by debt financing; however, after pivoting and spending four years creating a coupe EV, the CEO discovered a market gap for an electric truck and SUV. Amazon stated that Rivian's vision for the future of electric transportation had inspired them, and that it had purchased 100,000 vans to be delivered by 2030.
Payments Team Sizes During Series D+ Funding
The data gathered in the following slides are from 70 companies within the payments sector of FinTech.
CrunchBase and LinkedIn were primarily used to gather data about companies and is correct as of October 2021.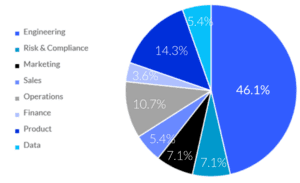 The average headcount of a Payments company at Series D+ is 860 employees.
According to our experts, when a company reaches Series D or higher, the product team should represent for 10-15% of the total workforce. When a company reaches this level of funding, the C-Suite positions are no longer confined to supervising small teams; they must also oversee the operations of managers who supervise individuals who are less senior to them. The leadership structure of a business is much more structured.
The average Series D+ Payments business employs 400 engineers or developers globally.
By this point, every department in the company should have a C-Suite position to lead the function and drive the company's strategic goal. If your organisation works across numerous regions, you may have location-based C-Suite roles.
C-suite executives collaborate to ensure that a company's strategies and operations are in line with its long-term goals and vision. Activities that do not contribute to improved earnings for shareholders are consistently corrected in public companies under the direction of the C-Suite.
Comparison between Pre-Seed and Series D+
The proportion of Engineers in the typical Pre-Seed firm's team increased by 20% of the headcount allocation. The average team size increased x100 (from an average of 3, to over 300 at D+). As your FinTech scales and your technology becomes more complex, your engineering function needs to scale alongside.
Your C-Suite matrix should be hired in line with your priorities. By Series D+ you should have most, if not all, of your key senior hires made to drive strategy and growth from the top down.
Blockchain Team Sizes During Series D+ Funding

The average headcount of a Blockchain company at Series D+ is 330 employees.
The average Series D+ blockchain business employs 224 engineers or developers globally. The engineering team is larger than a Series C stage because there are independent teams within the engineering and development areas.
Click here to download the full report.
InsurTech Team Sizes During Series D+ Funding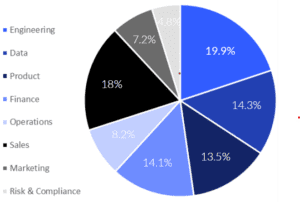 The average headcount of a InsurTech company at Series D+ is 404 employees.
Our experts say that when a firm reaches Series D or above, the product team should make up 10-15% of the workforce. When it reaches this level of funding, the C-Suite roles no longer merely manage small teams but also oversee the operations of the managers who supervise the employees less senior to them. A company's leadership hierarchy is much more defined. The average Series D+ Payments business employs 200 engineers or developers globally.
Click here to download the full report.
Storm2 can help FinTechs at the Seed funding stage with their growth plans. Get in touch for a confidential discussion on how we have helped businesses like yours. At Storm2, we understand how important it is to make the right hire. A specialized recruitment agency helps to stay on a lookout for seasoned candidates that have a strong potential to lead your company to success.